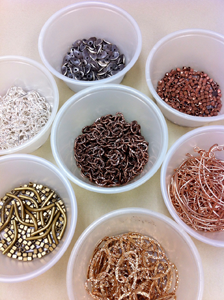 Your hair is a significant part of your outfit. Because it is one of your natural basic colors, wearing jewelry in your hair color is an easy way to pull together any outfit. When you wear clothes and jewelry that are the same color as your hair, you present yourself as well put together and grounded.
Look for jewelry that has metals that reflect your hair color.
For example:
antique coppers & bronzes would be a good metal choice for a brunette
golds, lighter bronzes & antique brass for blondes
silvers, including oxidized silver, for silver hair
antique silver for black hair
*
Other materials to consider are pearls, stones, gems, wood etc. in the color range of your hair.
Having a necklace, earrings and bracelet in the same colors of your hair are useful go-to items and a must have for your jewelry collection!